I haven't really followed through with this series, haven't I?
Well anyway, next week's Halloween week already. AND all the parties will be rolling in as well as with Fashion Week.
So I've been planning out my outfits and costumes for the coming week and of course, my make-up.
Check this out:
LOLITA GOTH
There's this Halloween Party on Thursday and it's theme is Vampires/Glam goth. I already have bits and pieces to use for the costume (mostly recycled from past costumes but restyled appropriately) and I wwas thinking of going as toned down Lolita Goth... Not so much of the Lolita part as I don't have the ruffle-y skirt (YET)
Something like this, probably: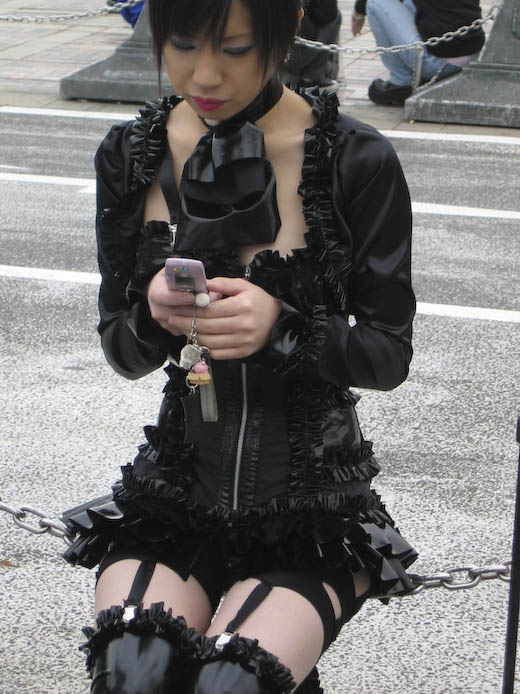 Now for the make-up, I found this tutorial and it's REALLY vamp-y!
Now I don't have the products necessary to pull-off this look, which is a bit of a downer, but I'm looking at ways to improvise.... heehee
SLUTTY BRIDE
Now, I promised myself that I'll go out with a bang in the office. And since we won't have a Halloween party (like we did last year) I promised myself that I'll have my own costume party! (aka I'll go to work in drag and go on a rampage. hahaha)
I wanted to go as a slutty bride (which is actually a white remix of the Lolita Goth):
Well, it''s very effective for Mariah since, you know, she plays the slut quite well. Hahahaha!
Now I found this awesome smoky purple make-up which is perfect drag make-up for this look:
OK, this is a bit fo a stretch, really since I don't have the costume YET. Haaaay, it's so hard be fabulous noh?
Anyway, the original idea is to do a Peaches Christ look but, it takes MAJOR effort:
She's one of the queens in this music video:
The transformation was just amazing!
Now I found a couple of make-up tutorials that may not be used for my immediate needs but I think are very doable in the future:
MERMAID LOOK
Now, the good thing about this is that I already have the palette (thanks to Happy!). The bad news is that it's sooooooo colorful that I don't think I can wear this without getting beaten up for being too gay (metaphorically speaking).
But it's FAB! Perfect for one of my gender-bender looks. Hahahaha!
SMOKY BROWN
Now browns and neutral;s are my friends. They go well with my skin tone and they are not too overpowering. Actually, I use them all the time! Hahaha. I'm perfecting my skill in doing the no-make-up make-up to avoid looking like a drag queen ALL THE TIME. Hahaha And I think I;m kinda getting there.
Now this smoky Chocolate look is just fab! It's a bit too dramatic though and the shimmer and glitter is a bit too much but what the heck! I can wear this, probably in some fashion show or evening event just for kicks! hahaha:
LAVETT!!!