No? Not quite?
To the young and the cave-dwellers, back in the 90's there was this critically acclaimed TV show that turned TV viewing upside down and kept men and women of all walks of life glued to their TV screens.
That show, my friends, is called, BAYWATCH! Watch the opening credits and cringe in 90s nostalgia, tanga-like one-piece swim wear, Pamela Anderson's glory days, and David Hasselhoff desperately trying NOT to end his career:
Aside from serving as David Hasselhoff's floatation device for his sinking showbiz career and launching Pamela ANderson to stardom:
The show was also the home of some of my hottest man-crushes, like:
David Chokachi (before he became a junkie)
Jeremy Jackson (when he was still young and hasn't decided to turn himself into some cheap white trash)
Michael Bergin (who became a Calvin Klein model!)
By the late 90's, in an effort to keep the show current, scorching hot, and to ward off the bad PR from it's scandalous original cast, the producers did a spin-off featuring younger and hotter stars:
And so comes the man of my wet dreams, JASON MOMOA, :
GAWD, i wanna snuggle up beside him and burrow myself into those pits!
One more look: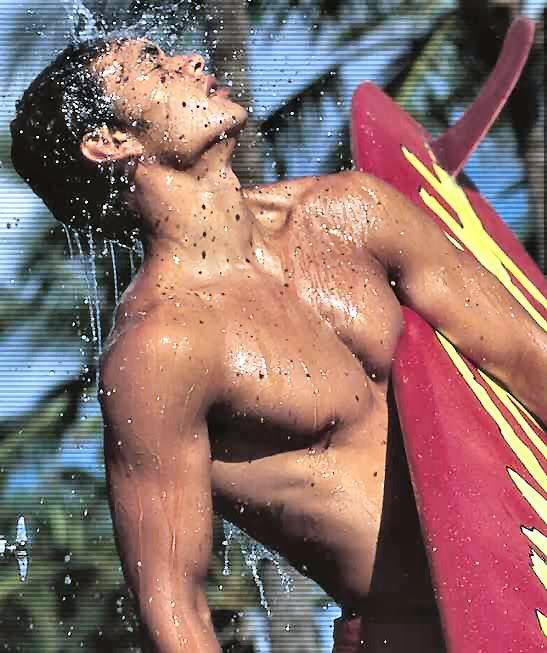 OH GOD! I just totally peed my pants!
HENIWEI!
After Baywatch Hawaii, Jason, much like the other cast members, turned into a hot mess:
I mean, ugh! C'mon dude! Dreadlocks? REALLY? With that scorching good looks, piercing eyes, and amazing bone structure, you decided to don on dreadlocks?
But it seems like his managers are trying to revive his career...
(Or some film producer is waaaaay too cheap to get REAL actors)
And that he is starring in a new (and yet again, shirtless) flick: CONAN. Check out "leaked" photos below:
Uhhh... the pecs are totally scrmptuous but the face... oooh, man, what happened to your face? He looks kinda crazy....
This flick reeks of a total waste of money B-movie... but hey, glad to hear Jason's making a comeback! This means more half-naked pictures of him would be circulating the net in the coming months!
Hahahaha!