OK so I've totally done this
before
...
But I was REALLY missing my long curly locks so I thought I'd post it again in a more organized manner... after all, it's very amusing :D
Those who do not know any better ask me how often I get a perm... The answer is NEVER. I was born with naturally curly hair...
However, it wasn't until 2 years ago that I finally embraced my natural curls...
When I was growing up, the school that I then went to, a Catholic all-boys school, didn't allow longish hair. It has to be clean and well-cropped. So I grew up despising my curls that just won't stay put and has a curling life of its own. And for years and years I looked like this: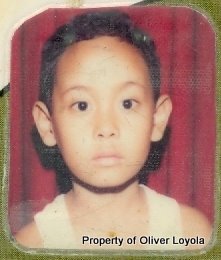 Yes, yes, yes... I was the fat dork with weird hair and glasses in grade school. I started wearing glasses when I was in 3rd/4th grade. And by that time, I already looked like a walking flesh balloon. It was during that time that I started losing my neck... I also became notoriously flamboyant during those years so you can just imagine what my life was like...
It was a really difficult time for me and the fact that I have no self-image didn't help!
At least things slightly improved when I got to high school. I lost a lotta weight and I kinda stuck to a hairstyle that was manageable and worked... Of course, my bones started settling in and the wearing of glasses really distorted the shape of my eyes... All the cuteness factor was gone and my face started looking a bit severe...
As you can see, by HS I got my neck back and my hair was, at the very least, not a big nest of a mess. Of course, I wasn't popular because of my looks. Gosh I was never the looker... But I sure miss weighing as light as I did back then... Of course when I was fifteen, I thought I was overweight... If could see myself now back then... haaay...
There wasn't much change when I was in college... Except perhaps I started wearing some tight-fitting clothes (hahahaha!) I still can't believe how SMALL my clothes were back then... (I was an XS - coz the retail cuts back then was all lose, or I'd wear XL women's shirts) What's more, I can't believe that I fit in those shirts! hahaha
Oh yeah... and I started wearing braces!
I didn't start rethinking my look until I got out of college and have started working. And it was during my first job that I started experimenting... At first it was just simply about growing my hair... and then when it got out of hand, I started using those relaxing creams which, initially, left me with burnt and scalded scalps! (ick!)
Well, my stint with GMA didn't last long... and by the time I was already undergoing training in MindShare, my hair was all abound (and dreadfully lifeless)
Well... it got to a point that it got so long, I was able to play with it
Well, after that, maintaining my hair everyday became a challenge. SO I had no choice but to tie it up. So for months, I got the ponytail look. By this time, I also got rid of the braces and it totally took away the dorky feel. I was finally able to smile freely! :)
That is, until I got tired of it and chopped the ponytail off... So what I got was a lanky bob...
It didn't last long coz in June of 2007, I stopped having my hair relaxed and went ahead with my natural curly locks. These were some of my earliest photos as a kulot
Well, back then, it was tricky getting my hair curled like that coz my hair was still suffering from the damaging relaxing chemicals... But then it totally grew out and voila! a year of bouncy curly glory:
I really enjoyed having such long unique crown of ringlets... And because of it's length, I sometimes played with it... (hehehe).
Here I am channeling a bit of Dianna Ross:
(it's an ugly photo, I know, but it's the only shot I got, so move on already!)
And here's me trying to be a bit Imeldific:
Anyway, I didn't go out looking like that. I'm not THAT fabulous to think that I can get away with it! hahaha.
But it was REALLY difficult to maintain. I blow dry it very single day and I can't sleep on it during the day otherwise it gets flat and lanky...
So... after our Dubai trip in June 2008, I decided to hack at it and get rid of all the hair!!!
And ever since then, I've been wearing it in all variations of short and curly... Well, I cut it short mainly for the interviews I was getting for the job hunting and because the heat was just insufferable and my ears miss the breeze...
Well, just a few months ago, I had my hair straightened right after my resignation.. you know, when you're a bum and got nothing to do, you just mess around with the hair a bit:
I have to say I enjoyed it... at least while it lasted coz the next morning it was all back to curls! hahaha
Then a week after that I had it colored... Originally, my hair color is that weird tint of reddish brown... probably because of the the hair drying and hair products that I use It just wouldn't stay black. I even dyed it black but it got lost after 2 weeks...
So this time I had it dyed light brown with some gold highlights... I'm just not sure it's discernible in photos though...
Well... now I'm getting of it all over again... and I miss being able to flip my hair :D...
SO I'm thinking of regrowing it to its former glorious length...
What do you think? Which look suits me more?
Should I go back to this?