I stumbled upon this prson while I was blogshopping, one click led to another and voila! I've found THE TRANSFORMATION:
Intriguing, right?
So dug up some more and landed on the motherload where the video heroine keps a stash of blogs about politics, music, art, etc etc... But what I really enjoyed was her BEAUTY TIPS! so I watched this one right
here
. And boy was I surprised to see her co-host!
Yep, It's her alter-ego (or maybe it's the other way around) Adrian Acosta!!! I thought Amnesia Sparkles was fun... hu-we-hell! It looks likes her mild mannered man-half is NOT so bad after all! Isn't he just a cutie?
Adrian also has his own
blog
where he talks about stuff more relevant to his craft.
Adrian is (as mentioned in his blog):
Artist/Photographer/Performer/Writer

Adrian L. Acosta was born in Uruguay,
has two last names, yet no middle one.
He currently lives in New York City.

- over 8 years photography experience
- over 20 yrs art and performing experience (on and off stage, in front and behind the camera)
- licenced Esthetician and makeup artist
It's such a perfect example of duplicity and gender bending minus the freakiness! tee hee!
Kinda reminds me of other gender-bending pinoys.... hmmmmm...
Rustom Padilla from hot papaness...
to Drag Queen of the season Bebe Gandanghari
AAAAAAND my favorite, Paolo Ballesteros as afternoon TV cutie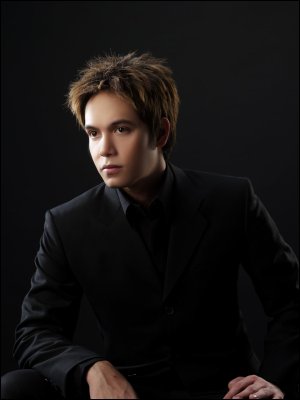 to Primetime mermaid boy:
to outerspace cross-dressing-contravida!
and this is the best part... Paolo's Cross Dressing antics on live TV:
In fairness maganda siyang maging gurl... work it, 'te!